I have to admit I didn't think I'd "take the pledge". Goblin isn't particularly interested in playdough, preferring more granular substances for his sensory play - like rice and beans. But after seeing an entire week of awesome ideas from fab bloggers I couldn't resist trying something.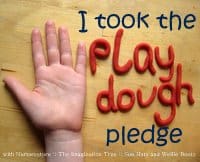 I made it the night before, wrapped a block of it in clingfilm (saran wrap) and placed it on his table with a bowl of cloves (extra smell sensations). My plan was for Goblin to insert the cloves Montessori style - he enjoyed doing a similar exercise with golf tees in polystyrene. When Goblin came down in the morning he looked at it inquisitively. He went over and started to play, but after about two seconds the playdough had been abandoned and the cloves were being scooped by the digger - I told you he preferred the granular stuff.
I have to admit I felt a bit deflated. I had thought my playdough idea was a good one but Goblin just wasn't interested. So I left it and we got on with having fun in other ways. However I took the time to mention my 'play fail' to the lovely Playdough Pledge gang. They were so supportive and one of them suggested I tried again but presented it in a different way (thank you
The Imagination Tree
).
So when Goblin woke from his afternoon nap I gave him the playdough again. This time with a garlic crusher, a potato masher, a rolling pin and a cookie cutter shaped like a bear. It was as if he was seeing playdough for the first time! He loved it.
He spent ages using the garlic crusher to make tuffty stringy clumps - he called them snails but I think he might have been confusing the word snail and worm. Then he turned to the biscuit cutter. We have been reading
Biscuit Bear
every night for a week and listening to the CD in the car (Goblin likes repeating books that he enjoys). He made the link between the biscuit cutter and the book and started stamping out biscuit bears and lining them up. The great thing was that every time we rolled the playdough it released a lovely Eucalyptus smell which must have been great for Goblin's sinuses. We got to 38 biscuit bears before we ran out of playdough. Then he went and fetched the clove jar that I'd left on his table and started decoraing the bears with cloves. I joined in giving them eyes.
I couldn't believe how much fun we had with the same dough that several hours later I had written off as a failure. It just goes to show that timing and presentation have so much to do with whether a child will enjoy something - and its taught me a valuable lesson, just because Goblin doesn't show interest the first time doesn't mean I shouldn't try it again.
If you have any playdough related questions, or aren't able to get your playdough consistency right just leave a comment at one of the three participating blogs mentioned above and I guarantee they will have a great solution for you.
I'm sharing this with